MAKE A

LIVING WHILE

TRAVELING

IN

LUXURY
ON SOME OF THE MOST

BEAUTIFUL YACHTS

IN THE WORLD
EVEN IF YOU'VE NEVER WORKED ON BOAT OR BEEN ON A BOAT
THE COURSE THAT WILL CHANGE YOUR LIFE FOREVER
Imagine waking up to the crashing of the waves, the suns coming up over the horizon on a 150ft superyacht in the Mediterranean sea.
Imagine the refreshing salt air hitting your face as you cruise into a beautiful Caribbean anchorage.
STOP IMAGINING! THIS COULD BE YOU IN ONLY 30 DAYS WHEN YOU TAKE OUR COURSE
Once you enroll into our training you will be fully emersed in the exciting world of the superyacht industry. A world surrounded by extreme luxury, unbelievable scenery, amazing people, and most importantly big money!
ESCAPE THE 9 TO 5 AND MONOTONEOUS BOREDOM
Those who study with us and follow the training correctly have a much higher chance of working on a luxury superyacht than anyone who attempts to get into this industry without it.
Don't miss out on this semester, enroll now and start the next chapter of your life!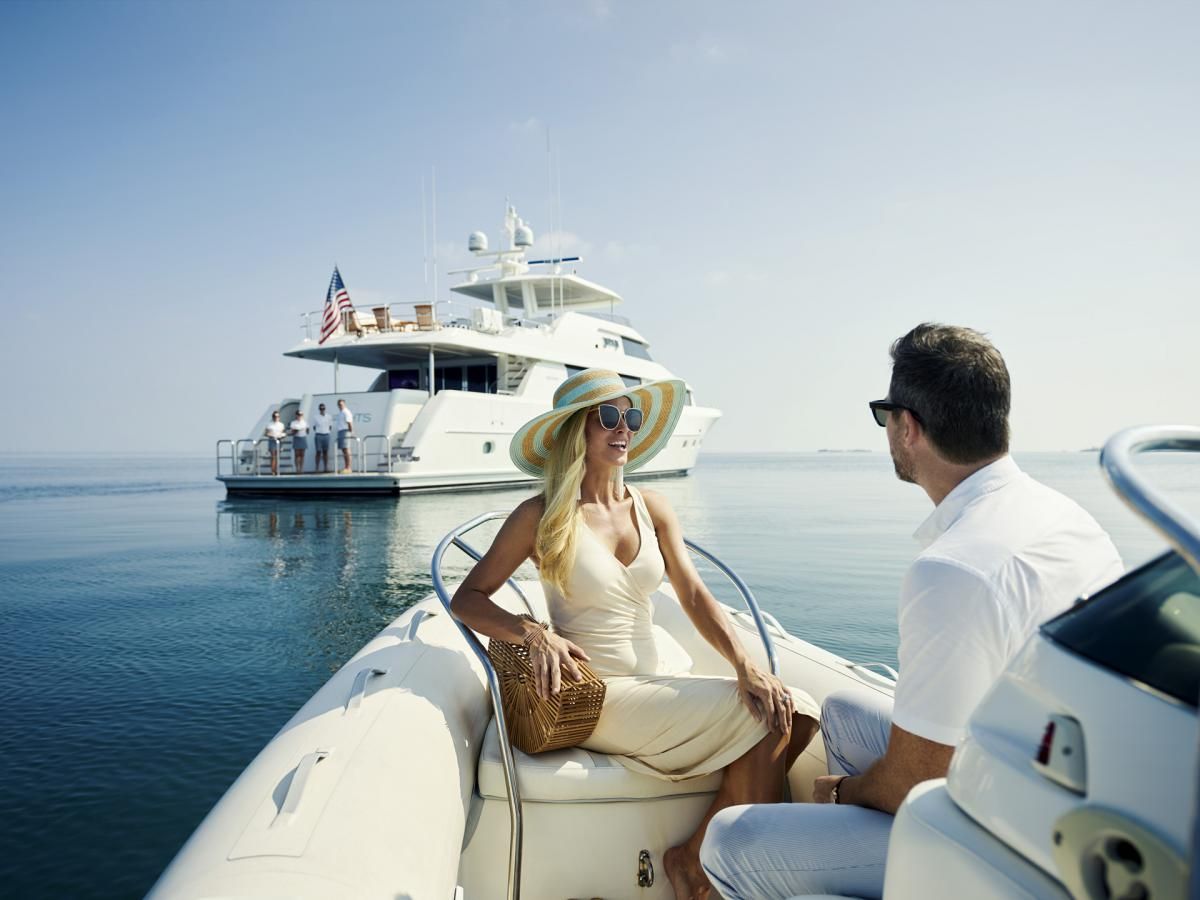 2023 TESTIMONIALS FROM OUR STUDENTS
Nina Ruslana
"Coming from Ukraine it was very difficult to find information on the internet to get involved in this industry. I had studied this course abroad and I have put it to the test. I now have had different daywork jobs so far and I am very appreciative of YU and all their help with all my questions."
Sarah Fuller
"Starting out I was very green, and a little over my head. This training has been an absolute lifesaver and has helped me every step of the way, don't know if I could have done it without it.
Kyle Reed
"I must say that yacht university really gave me the confidence I needed to pursue yachting. I thought I had missed my boat because I was 35 and just beginning my career. Turns out, 35 isn't too old after all! Thanks guys so much, and I know I was annoying with all my questions, but it paid off! Now Im working on a 50 metre Amels!"
"I knew there would be a learning curve, but taking this program gave me a leg-up on the rest

and I owe it all to Ej."
_

Chef Tigh J.

Head Chef Of Motor Yacht Happiness
THE NEW FRIENDSHIPS YOU WILL MAKE WILL LAST A LIFETIME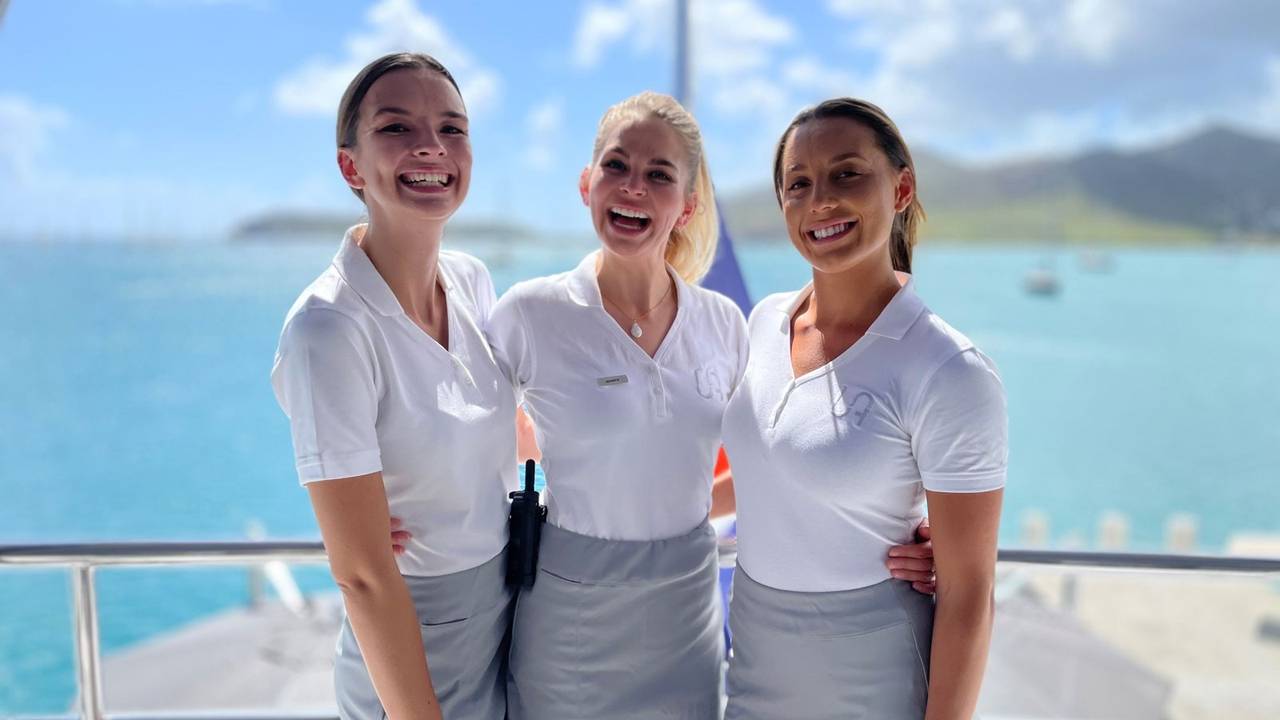 "After completing all the modules, you'll come out as if you've been in the trenches of the yacht industry for years"
- Captain Ej Jansen
What you can expect to have learned once you've completed the course:
Know the top three career starting locations and all the other hidden ones as well.
How to pick which destination and its seasons that correspond with the time of year yachts will be there.
What yacht training courses are available, and the mandatory documents you need.
The different types of yachts, the programs they have, and which suits your style best.
How to write a professional yachting resume/cv that when the recruiter receives takes no time to call you for an interview.
The crucial terminology and yachting lingo that is used daily. This will save you a ton of time as it will help you get along with yacht crew members from day one.
The different job positions and how to move up the ranks.
Basic rules of the road and seamanship.
How to use the crew radios and the different safety protocols.
How to hold a "watch" and the various types of watchkeeping
Complete step-by-step tutorials and instructions of the tasks the departments will have to do on a daily, weekly, monthly, and yearly basis.
100% Money Back Guaranteed
Our team is so confident that the Superyacht Crew Mastery course will fast track your success that we offer a 180 day, 100% money back guarantee. It applies for those who have passed the course and who have shown they have put the material to the test and it did not work.
MODULE 1 - LEARNING THE ROPES
Learn the essential information of the yachting industry. The most popular destinations. Crew agencies, and the scams to avoid. Crew accommodations and how to secure one. Types of yacht work. The different positions onboard. Expected earnings / salaries. Work contracts, visas, health benefits and much more!
MODULE 2 - YACHTING KNOWLEDGE
This sections goes over the different types of yachts, makes and styles. Navigation and rules of the road. The terms and phrases. Watchkeeping. Flags. Radios.
MODULE 3 - DECK DEPARTMENT
A complete guide to the yachting deckhand's job. Thorough explanations and videos on washdowns, teak maintenance, brightwork, knots, mooring, anchoring, crane operations, toys, and everything a deckhand will be doing while on the job. We also include a complete list of all deck products and their uses.
MODULE 4 - INTERIOR DEPARTMENT
A complete guide to the interior stewardess crew job. Housekeeping, silver service, laundry duties, guest care, and everything you will be doing as a yacht stewardess. We also include a list of interior products and their uses.
MODULE 5 - FINAL MEASURES
This section will go over the crucial aspects of find working, resume/cv creation, prerequisite courses and medical examinations, dress code, job placement, and more. Finish this module with a 40-question final exam based on the material learned in the entire course. Once passed you will receive a certificate of Superyacht Crew Mastery!
Standard College or University Tuition
$5,000 - $40,000
PER YEAR
GET CERTIFIED ON COMPLETION OF THIS COURSE
Once the final exam is completed, the student is issued a certificate to show they have passed and understood the knowledge and skills required of them to land a job on a superyacht!
The certificate you recieve will show your future employer that you are serious about this industry and that you are willing to take extra steps necessary to ensure you are a good fit for their yacht.
If you are serious about starting this new career, don't hesitate any longer, the hiring season is short and you don't want to miss out on any job opportunities and unforgettable yachting adventures ahead!
ENROLLMENT TO THIS SEMESTER ENDS SOON!
We are only accepting 100 students per semester, in order to save your spot, enroll now!
FREQUENTLY ASKED QUESTIONS
Can I still work on a yacht if I have no prior experience?
Absolutely! We all have to start from somewhere. We have trained 100's of crew from all walks of life to find passionate careers in yachting. This industry has a lot of trade secret's and insider knowledge. Taking our course is crucial to ensure you are actually making the right steps toward getting a job on a yacht.
Is there an age limit for applying for a job as a deckhand?
The typical age for a BEGINNER crew member is around 18 to 45. With some exceptions being older or youn
How often is the training program updated?
We do our best to update the course every month with new videos, and new industry information.
Can girls work as deckhands?
Absolutely girls can work as a deckhand! Many yachts prefer female deckhands.
Do I need to fly to your training facility to take the course?
The course is 100% online and can be taken at your leisure. There is no time limit to finishing your quizzes and exams. It is self paced, highly concentrated yacht knowledge and skill testing.
How long will I have access to the course material once I complete the exam?
You will receive lifetime access to our training courses. We allow this because we know crew will constantly be referring back to the course as they begin working and it acts as a useful reference when beginning in the industry.
Can men work as a stewardess?
Absolutely guys can work as a steward! Many yachts prefer to have male stewards.
Do I need to fly to your training facility to take the course?
The course is 100% online and can be taken at your leisure. There is no time limit to finishing your quizzes and exams. It is self paced, highly concentrated yacht knowledge and skill testing.
Captain Ej Jansen
Founder of Yacht University. Ej owns a large yacht management company as well he has over a decade working on superyachts. Ej is constantly researching, and coming up with new material for the program. He strives to make Yacht University the #1 yacht crew resource on the planet.
First Officer Antoine Rose
An experienced seaman, having spent much time in the navy and yachting industry. Antoine helps train crew, answer questions, and give insider tips and insightful and unique techniques on how to land interviews with big name yacht captains.
Chief Stew Michelle Botha
Michelle has spent 7 years of her life working as a stewardess on very large megayachts around the globe. Now she is head of our HR department and helps handle crew job placement.
THE YACHT UNIVERSITY MOBILE APP
One of the best parts of our course is you can access it from anywhere, whenever you need it. When you get hired on a yacht, you may get confused with terminology or certain tasks. With our mobile phone app you can easily pull up your Yacht University course material and figure out the problem.
HOW DO I GET THE APP
Visit your phones play store, and or app store. Download the Kajabi App (course platform app). Sign into the app with your Yacht University credentials. You will then have full access to the course, its quizzes and final exam right from your mobile phone.
DID WE DISCUSS THE

BONUSES?
Because we want to ensure your success, we are throwing in three very crucial bonuses!
TOP CREW AGENCY LIST

($99 Value)
As they say it's not about what you know, but more so about who you know. Every student this semester will receive a contact list of the world's TOP crew agencies. For those who don't know what crew agencies are, they are established agents in the industry that link yacht crew up with positions on yachts.
TOP CREW HOUSING LIST

($99 Value)
When looking for work most crew will stay in what is called a crew house. If you have read our about page you will know that the founder had quite a bad experience when first joining the industry. What he researched on the internet was labeled a 5-star crew accommodation, when he arrived it was a slum. We don't want you to fall for these scams, so we will include a VETTED and safe list of affordable accommodations for you to stay at while you pursue your career.
TOP NETWORKING LIST

($99 Value)
Once you've taken the necessary training and have visited the crew agent. There will be a level of personal networking you will have to do to find work, make friends, and establish yourself with a strong foot hold in the industry. This list will give you the TOP locations to start networking, and some helpful hints and tips to maximize your time while you go to some of these events and places.
BECOME PART OF THE LUCRATIVE YACHTING INDUSTRY
We know it can be expensive to make a life change like this. So we have currently priced our course very low because we want to inspire more students to take the leap and hope that they also give us testimonials so we can show others how well our program works.
Limited time offer for the next 50 students:
WAS

$1100

save $600 and join today for ONLY $499!

One time fee!
BONUS EXTRA
Sign Up For Our Free 3 Day Training Emails
Enter your name and email below and we will send you your first steps to starting your adventure!