Reveal the Little Known Industry Secrets that Eliminate the Guesswork and Help You Land Your First Job in the Yacht Industry
It is no surprise that the yacht industry offers luxurious and lucrative career option, with little schooling and or no previous experience necessary. However, breaking into this industry is the hardest part, as the processes are purposefully kept secret from you.
Yacht crew members want a monopoly so that they can keep getting that hefty paycheck by keeping the secrets to themselves. When the vacancies roll out for new hires, their family members, friends, and close relatives get the jobs, as they are the only ones who have first-hand access to the information.
But now for the first time, our team is breaking the monopoly by revealing all the secrets of the yacht industry so you don't have to face the same struggles that most have had to face when getting started in yachting.
Yes! We are also one of you, someone who had false knowledge about the industry, and no relative or close friend who was working in the industry to share the secret knowledge to us. Meaning we had to learn the hard way.
But you don't have to, as we have laid out the exact process you need to follow to land your first job in the yacht industry and swiftly navigate all the issues that come before you while working there.
It doesn't matter how skilled you are or

how much

you think you're

aware of the Hospitality industry.
See, the truth is, many aspiring individuals have tried to figure out a way to sneak past the closed doors, but soon got discouraged, ran out of money or accommodations, and ended up abandoning their dreams about working on a yacht.
Why did it happen?
Were they not qualified enough to get a job in the yacht industry? Did they not aware of the protocols and requirements of the hospitality industry?
Not really…
The reason most of the aspiring individuals got rejected is, they didn't know the industry secrets… which you're about to learn.
If anyone is oblivious of the little-known protocols of the yacht industry, they would never get hired.
Even if, by serendipity, you get hired, the rigorous & complicated yacht rules and crew members would make your life miserable.
And if you don't know these secrets, the whole crew – who are watching you withering away - would turn around to go back to work.
While walking back to work, they pause a bit, look over their shoulders from the corners of their eyes, and smirk over your condition and leave the place shaking their heads.
Not when you go through the Yacht Mastery Course…
You're about to learn how to build the right connections, get the right resources, and not get hurt by the rules and the members.
But before I shed light on what I have installed for you,
I want to address the shady practices on how most people get scammed in the name of a job on the yacht…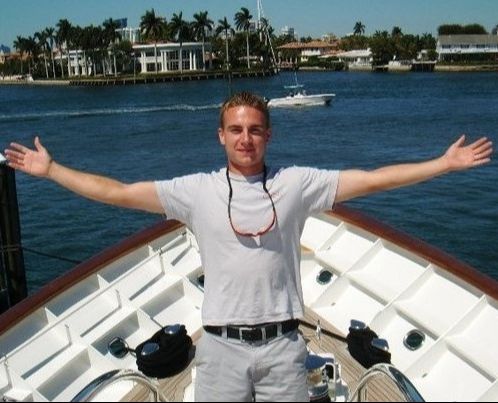 Captain EJ Jansen
He joined the yacht industry back in 2010. At that time, the information was fairly limited and the industry was difficult to get into…
When he was starting his career in FT. Lauderdale, he got his hands on resources he found on the internet regarding accommodation, schooling, etc... But they were horribly wayward and downright wrong.
Due to the false information, he had to face the music.
He arrived on his first day in Florida excited as hell, told that he would be a part of the 5-star crew accommodation, where the real luxuries of life would come...
But soon the bubble burst before him, as the place turned out to be a halfway house for drug dealers and criminals.
When he arrived to his room, which was rented to someone else, they put him on the couch in the hallway.
He was crying and cursing his luck, and he remembers when he dozed off on the couch. Just a few hours later, he was awakened at 3 am to someone puking next to his head.
Can you imagine how much he had to go through?
He had people steal from he, rental companies steal from his credit cards and many things he had to learn the hard way.
All resulted in him ending up broke and being down to my last 10$ in Florida, a very expensive place to be.
It was at the moment that he told himself he would not give up.
He started reading everything he could about being a respected yacht crew member. He even started working on yachts for free just to get a reference.
And because he was slaving away hours and learning the secret traits of being accepted as a crew member, things started to smoothen a bit. He started getting along with some of the crew members (some have even contributed to Yacht University).
And it wasn't possible if he hadn't figured out what he needed to know to become a yacht crew member.
Now fast forward to today, he is yacht captain, and him and the team at Yacht University know exactly what you need to do to land your first gig on a luxury yacht.
Let's discuss the actual concept behind putting together this program
The difficulties Ej and other yacht crew members face in my early days, are painful and hard to overcome, resulting in many packing up and leaving their dreams behind.
Just so you don't get to face the same heart-wrenching, tear-shedding, and mind-numbing experiences, the team at Yacht University put together a comprehensive course on how to land a job in a secretive yacht industry and live the best life from day one.
This gives you the option rather than struggling around and starting from the ground up as many have to.
…You can learn from real experiences and mistakes.
You will also get to learn the secret tidbits we've gathered over the years while working on multiple yachts ranging from 120ft to 240ft in all the major yachting destinations and ports.
This will allow you to expedite your career and fast-track your success. And minimize the trial and error and guesswork.
With that said, if you are serious about making a change in your life and career
FIND OUR MORE ABOUT OUR COURSE
Testimonial from Katherine
Katherine was one of our students who aced the course with 100% and landed a job within her first month of looking. Here is her testimonial video.